PEV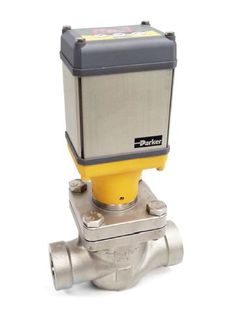 Electronic Control Valve
The Parker Electronic Valve (PEV) provides a new level of control to industrial refrigeration. Managing liquid levels in vessels, superheat for direct expansion, brine temperature in chillers and hot gas defrost are just few of many applications for the PEV.
For basic liquid level control the PEV can be used directly with the HBLT-Wire without the need of a controller. For more advanced applications the PEV is compatible with the HBLT-C1 controller or any other controller with a 4-20 mA output signal.
The PEV weld-in valves are designed to overcome corrosion problems encountered in harsh environments. Being weld-in, the valves reduce the potential for connection leaks and can be entirely serviced from the top.
Product Features
Stainless steel construction increases product life cycle
Cartridge based design simplifies service and eliminates body wear
Increased flow capacity enables smaller valve sizing
Removeable actuator
Simple user interface (UI)
Bright LED Display
Suitable for ammonia, CO2 and halocarbon refrigerants
Multiple refrigerant capacities available
Password protection prevents tampering
Lightweight construction
Alarm notification
IP67/NEMA 6 rated
Parker Backup Module (PBM) available for fail safe operation