HBLT-Wire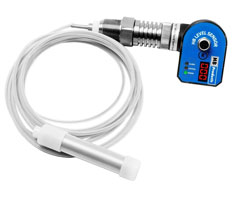 Liquid Level Wire Probe
Better, compact and more cost efficient the HBLT-Wire is a field adjustable capacitive liquid level sensor designed to measure refrigerant levels in traditional stationary systems such as vessels, receivers or accumulators as well as in marine systems.
The HBLT-Wire is an all in one length probe. The flexible sensor wire provides on the job length adjustability, so one part number covers all application requirements.
The sensor has an output signal of 4-20 mA, which is proportional to the 0 and 100% of liquid level.
Product Features
Suitable for ammonia and halocarbon refrigerants
Adjustable length: Cut and configure wire from 600 to 4000 mm (24 to 157 in)
"Plug and Play." No requirement for recalibration or dead zone optimization
Configure and calibrate using a free windows utility Liquid Level Wire Probe Data Sheet Type: HBLT-Wire
"Service Friendly." Electronic head and probe can be separated without emptying the vessel
One alarm output available
Physically backwardly compatible with Refrigerating Specialties Depth Probe Tracker and ELL probe models
Can be used w/o controller for basic level control